This is a bit of an idea I have had for a regular piece. It will be an opportunity to catch more football and to focus on specific players/teams. I have decided to pick one newly transferred player from the four leagues I mainly watch- Premier League, Serie A, La Liga and The Bundesliga. As well as watching them, I will also look to fans forums and each countries made to gauge the players progress and importantly what the fans think. I have decided to do posts once a month to overview how they've been doing.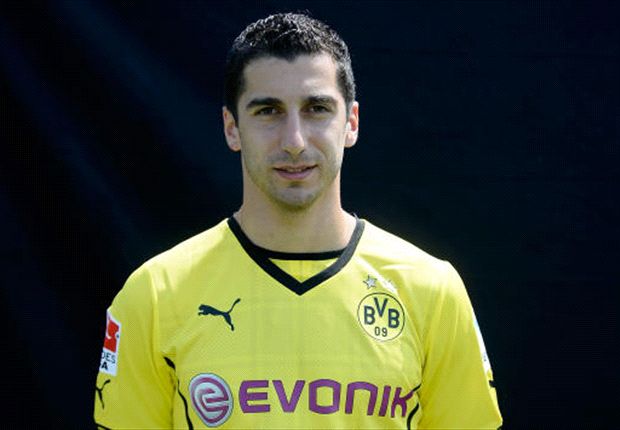 Mkhitaryan (Borussia Dortmund) - Bundesliga
The German league is already underway. Caught Dortmunds impressive win vs Ausburg yesterday. They took a little while to get going but when they did, they were very entertaining. It was a dream debut for Aubameyang, scoring a hat-trick. Mkhitaryan is currently injured and therefore needed to sit out Dormund's first match.

The highly rated midfielder transferred from Shakhtar Donetsk for what is believed to be in the region of €25.75 million. In purchasing him, he is the most expensive player the club has ever bought. Price tags come with pressure. He just enjoyed a very successful club season, scoring 25 goals from midfield and therefore must be feeling full of confidence. It is a step up certainly, but he is coming into a good team boasting plenty of talented players. With the loss of Mario Goetze and he being a mature player at 25. Dortmund, will be looking for him (once fit) to have an immediate impact. Looking forward to seeing this player as he is one I have never watched, only heard of. As ever, it will be enjoyable following and watching Dortmund play- could be a tricky season for them given the sheer strength and talent of the present Bayern side.
Neymar (Barcelona)- La Liga
Certainly the most obvious of choices and the marquee signing of La Liga. Neymar has been linked with Barcelon for some time, it was originally believed that the transfer would not be completed until after next years World Cup. There has been so much talk and hype around Neymar, since he was a very young age. He had a fantastic Confederations tournament, which his Brazil of course won. It as the first time seeing him that he looked mature, consistent and full of confidence. The Olympics the year befoe he lacked consistency and was not as much of a team player. It is the right time for a move and to test himself in Europe. Really looking forward to seeing more from him, how he settles in and deals with playing at a higher level and the glare of playng for such a big club. Going to be interesting seeing how Barcelona set up and how he and Messi fit into it. Some have said that, that could be a problem. However, do think that they'll enjoy linking and form a great understanding. In a bid to help him bulk up Barcelona sent him to have his tonsils removed. He is very slight and finds it dificult to add weight. He'll get all the help he can ever want at Barcelona with that.
Giaccherrini (Sunderland)-Premier League
Must admit that I watch much less of the Premier League than I used to, prefer to watch Geman and Italian league over it. But this season I am definitely looking to watch more. Sunderland are not famed for their great football but they have a decent team. Thought that Giaccherrini was excellent in the summers Confederation Cup. A little familiar with him due to Juventus also. Interested to see how he does. Is by in large a good thing that the smaller teams are investing in foreign talents such as him. Swansea instantly spring to mind for the Spanish players they have attracted for low fee's. Though it is not going to do any favours to the development of English players. In terms of having English players at clubs, their prices are massively inflated, meaning that clubs are opting to buy from abroad because players are cheaper and often better technically. Paulo di Canio, the ever controversial is their manager. Not hugely familiar with the style of football his teams play but with the players they have they should be quite watchable. Team also seems to have great belief and are good at making comebacks.
A great coup for Sunderland, landing an Italy international. Do wonder how he'll take to life in the North East coming over from Italy- culture shock time! He is a clever, positive player who is full of confidence. He likes to take players on and has a good eye for a pass. That, he has a high work rate will be a big advantage to Sunderland. Another, is his ability to play in different positions.
Higuain (Napoli)-Serie A

With the exit of Edinson Cavanni to PSG, Napoli replaced him with another South American. Gonzalo Higuan of Argentina and formerly Real Madid, transferred for a fee of £45 million. It is a fairly heavy price tag and with that comes pressure and expectaton. A real fans favourite, Cavani's are big shoes to fill. Rafael Bernitez has come into the club as manager, he isn't always associated with the attractive football that the Napoli fathful will demand. However, his big strength is the tactical side, this will be very useful in Serie A where the pace is slower. Akin to his new manager, feel that Higuan is well suited to the Italian league. His poaching abilities and movement strong. Could see him scoring a fair few. In recent seasons, the league has opened up and Italian football has changed somewhat, becoming less defensive than in years gone by. There is no doubt it has fallen and still has a way to go to raise its profile. You would say that now, even the German league has overtaken it. An acquisition such as Higuan and also Carlos Tevez at Juventus does reveal that the league is capable of attracting quality players,