I love food and cookery. It is a real interest of mine. Football is the most popular and watched sport in the world. Food traditions and culture varies enormously from country to country, climate of course plays a big part too. Around the world there are traditional snack foods eaten at matches. Alcohol is a popular drink, but in some countries such as Argentina's there are bans and others it is not consumed for religious/cultural reasons. In this post I will take a look at the foods served up to matchgoers from England to Africa and beyond.
GERMANY
Famous for their fantastic atmospheres, Germans have it the best when it comes to watching football. Compared to other countries ticket prices are low. I really enjoy watching the Bundesliga and you regularly catch glimpses of fans and their plastic pints of beer! The most popular snack consumed by the fans in Germany is the pretzel. A knotted dough which is soft unlike the pretzel snacks bought in the crisp aisle in the supermarket. The German diet is famed for a fondness for meat. Sausages are a firm favourite, in Germany they are called bratwursts. Curry wursts are sausages that come with a curry flavoured ketchup, they also enjoy them topped with sauerkraut (pickled cabbage). St Pauli an amazing and unique club has a unique way of delivering their curry wursts to their customers:-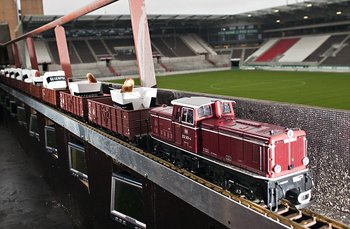 The Germans also enjoy the usual chips and burgers. Beer has already been mentioned. During the winter months a spiced mulled wine drink called Gluwein is drank. It can sometimes be made with apple, it is richly spiced and a highlight in the traditional German markets at Christmas time.
BRITAIN
Food in Britain and Ireland is famously disgusting. Pies and bovril are the first foods that spring to mind. Bovril is a meaty, beef flavoured drink served warm, sort of like drinking gravy! It is undoubtedly needed, try going to games in Aberdeen in the wintertime! Lovers of stodge, the humble pie is a popular staple sold to match going fans. Bolton fan Tom Dickinson challenged himself to eat his way around the 92 clubs in England in pies in a single season. He did it and recorded his journey in a book.


Most clubs throughout the nations have their own club doughnuts. A sweet deep fried treat, often laced with icing. In a turn up for the books Manchester City have just splashed out on hiring celebrity chef Jamie Oliver to cater for their fans. A treat awaits and will certainly be a higher class of food available than standard! Food within football stadiums themselves in such grounds as the Emirates and Wembley is astronomical. Many joke that you need to re-mortgage your house to have a day out at Wembley. Though on the pricey side, the food at the Emirates has had good reviews particularly the massive and loaded chilli dogs that are sold. Most food is bought from the portable food vans that line the streets before games. The usual foods of pies, burgers, kebabs, chips etc all sold. The food truck culture took off in America and it has come over the Atlantic and is getting increasingly popular in Britain. These trucks offer unique and more exotic foods, sometimes even healthier options. You could certainly see food truck owners flocking to stadiums to sell their wares.


Many grounds are situated close to fish and chip shops. I lived in Aberdeen for a while and Pittodrie is opposite a fish and chip shop. They make a killing on match days. It is a fantastic stadium and well worth a visit, recommend Aberdeen too- love that place. Ex-Manchester United player Lou Macari opened up a fish and chip shop that is still going to this day. A Scotsman with Italian blood in him, he actually bought it for his family. His original plan had been to bring his Mother down to Manchester to run it, Macari's father had died young. Macari's Chippy is still going, located on Chester Road close to Old Trafford.
SPAIN

A healthy nation, the treat you most associate with events in the Spain is Churros. Churros are long, thin ridged, sugared doughnuts that are served warm. They are served as they are, with a dusting of cinammon and also with an accompanying pot of chocolate sauce or hot chocolate. It is popular to take food to games. You will commonly see a Bocadillo wrapped up (typically with silver foil) and tucked under the arm of supporters. A bocadilla is basically a sandwich, it is made from cutting a loaf or french stick length ways and is then filled. Famed for their spicy cured meats that will most often be the filling alongside cheese (such as manchego) and vegetables. An etiquette comes with this, it cannot be eaten until half time. The Spanish fans also enjoy eating sunflower seeds (pipas in Spanish). A report revealed that the pet shops in the Trafford area of Manchester sold out of them when Valencia played United- madness!
UNITED STATES OF AMERICA
Soccer in America has grown in popularity. Both their national football team and their league, The MLS are improving. The archetypal fast food nation, you could write an essay of the foods available and sold in and around stadiums on match days. Hot dog carts are a famous sight from films and are certainly popular. A variation of this exists and is sold, Corn Dogs. These are not sold in the UK and less well known. They are basically a hot dog sausage on a stick that has a corn coating. They are deep fried. Another popular choice is nachos, these salty snacks go very well with a beer or two.
AFRICA
Heavily meat based is the food available to African football fans. Pictured, is meat skewers which are called Suya. The meat is typically flavoured with spices and pepper. Bole is a dish of fried plantain, it is fried and can be served with a palm oil sauce. It is eaten hot or cold. Similar to Caribbean cuisine it is often served with fish. There are regional variations and it is very popular. Cooking over a flame is popular, especially for meat- the technique is called Braai and is akin to a barbecue. Meats are generously marinated and sold to fans straight off the flame, sometimes within a tradition flat bread. There is a drink called Kunu, this is made with millet or another grain and is left to ferment for 2 days before it is filtered. It is milky white, often thickened with cornflour and flavoured with hibiscus. It has origins in the football loving Nigeria. Roobois is an African bush tea, famed for its grassy flavour and reddish appearance. It is widely drunk as a refreshment at games along with hard biscuits for dunking called Ouma rusks. Other snack foods such as peri-peri spiced peanuts and dried apricots are also consumed.
Moving onto South Africa, they too enjoy their meat based snacks. Biltong is said to be popular, American, British and Aussies will know it better as jerky. Salted, sometimes spiced dried meat. They seem to have a really taste for salty foods, Wors are also popular. These are small sausages made from either pork or veal and spiced with coriander seeds. The main type is Droewors, which translates as thin sausage.
OTHER NOTABLE MENTIONS...
Whilst researching it was so interesting reading about Greece. The most popular snack for their fans during a match is sunflower seeds, how healthy! As mentioned above, they are eaten in Spain too. The Middle East also snacks on them. Sticking with seeds in Turkey a sweet/savoury pastry is made using sesame seeds called Simit, the sweet version is made with honey. It most commonly is circular, like a thin bagel and is said to be influenced by the pretzel and very similar in texture. The Greeks do not drink alcohol widely at games, most prefer to opt for a frappe, which is a coffee based drink.With their famous ice cream reputation, it is no surprise that the iced treat is sold in football grounds in Italy. Unlike the other countries the Mexican fans enjoy sweet treats to snack on most of all. These are, most often in the form of cakes. Tortas, sandwiches served hot or cold with an array of fillings meat, avocado or egg.